COVID-19 Updates & Protocols
---
As COVID-19 continues to evolve, the SPDSA will publish updates here, about our programs and other membership communications. Please check here for regular updates and remember to follow us on our Social Media Platforms (Facebook, Instagram, and Twitter)
Please see attached graph detailing the different steps to Return to Soccer respecting COVID Protocols.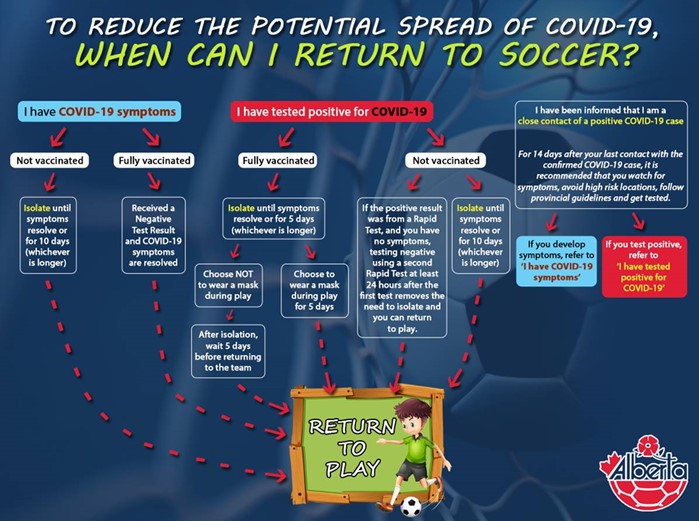 There have been several questions on the interpretation of a "Close Contact of a positive COVID-19 case" graphic on the upper right corner of the "When Can I Return To Soccer?" information above from Alberta Soccer.
Current guidelines do not require "Close Contacts" to self - isolate but rather watch for the "Development of Symptoms" or if they "Test Positive for COVID - 19", the individual should follow the steps relative to either of these two Scenarios as per the graphic above.
Click Here for WHO IS A CLOSE CONTACT?
Participants and Team Officials should always follow Alberta Soccer and Government of Alberta guidelines. Please Click on the links below for full details.
Click Here for Alberta Soccer Guidelines
Click Here for COVID-19 ALBERTA PUBLIC HEALTH ACTIONS - Please access "Sport, Fitness and Performance Activities Information"!
---