Scholarship Program
---
---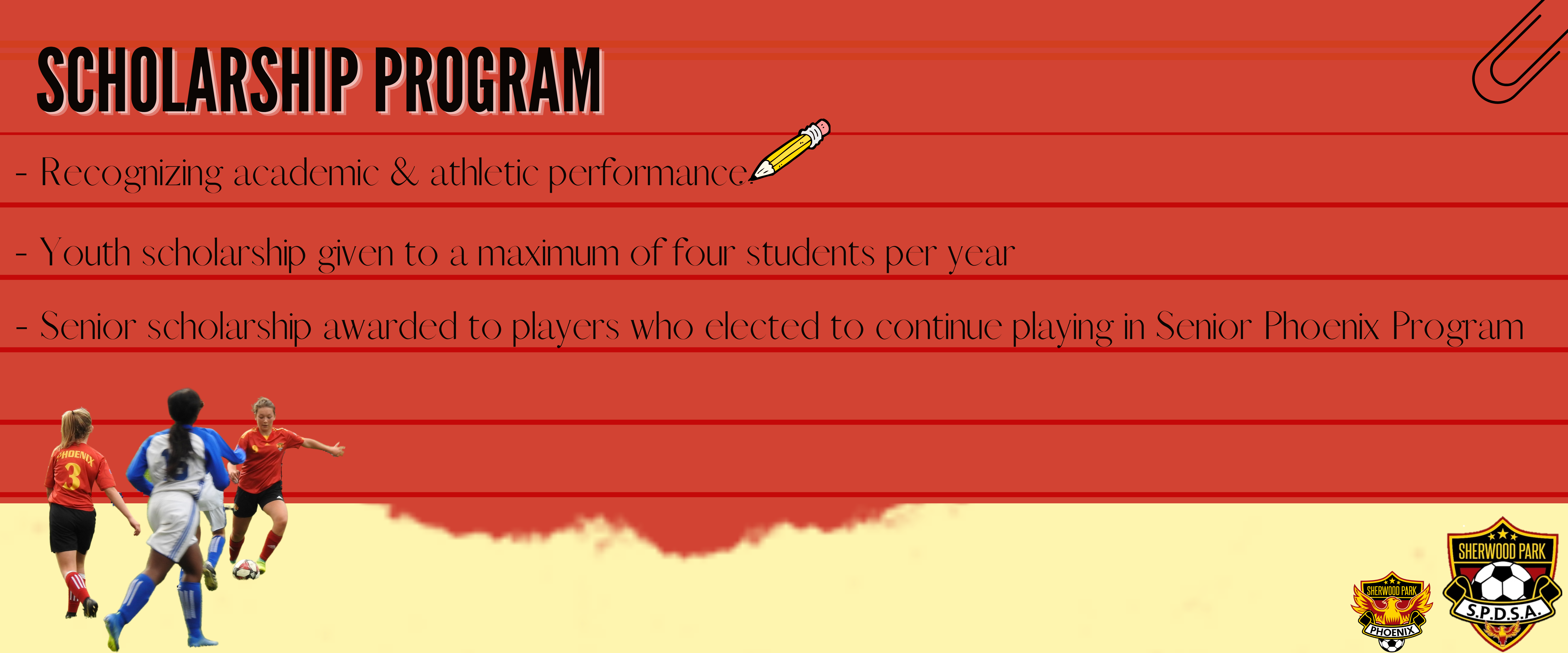 ---
The SPDSA strives for its athletes to have multiple opportunities to participate in sport. The SPDSA feels it's their responsibility to recognize any player who has been a consistent member of their achievements when transitioning into post-secondary education. Furthermore, these scholarships resemble the athletic and academic performance of SPDSA youth players while encouraging them to transition into SPDSA adult teams. The Sherwood Park District Soccer Association offers two existing scholarships:
The First is a youth scholarship with a $500.00 value that can be given to a maximum of four students per year.
Qualifications:
Applicant must be a Canadian citizen or permanent resident residing in Alberta
Applicant must be registered and currently playing for a team within the SPDSA program or recently completed their youth eligibility
Applicant must be registered in a post-secondary program or studies leading to a diploma/ certificate. Distance learning in a post-secondary institution is acceptable.
Applicant must have completed with Sherwood Park for two or more consecutive seasons, including their last year of youth soccer eligibility.
Applicant is confirmed as a full-time student at an approved and recognized post-secondary university, college or technical school.
Additionally, the applicant will evidence outstanding athletic participation, demonstrated leadership qualities, involvement in volunteer activities, commitment and dedication, passion and love for the sport of soccer. Donations may be made to this scholarship fun if so desired. All donors will be recognized annually.
Payment for $500.00 scholarship will be awarded upon evidence of completion of the first term/semester of studies.
The second scholarship the SPDSA offers is a senior scholarship of $1000.00 for players who have elected to continue playing in the Senior Phoenix Program. The qualifications of the youth and senior scholarships mostly align with some outstanding exceptions:
Applicant must be registered and currently playing for a team within the SPDSA program
Applicant has committed to one indoor season and one outdoor season of senior soccer with a Phoenix Adult team to be eligible for the $1000.00 scholarship
Recipients of the $1000.00 Scholarships will receive payments in two installments. The first installment will be paid after completion of participating in the Phoenix Adult Indoor program and the second payment after completion of the outdoor season.
Successful applicants will be advised of the outcome of their application by October 31 each year. The recipient may defer the awards for up to twelve months.