Strive for Excellence Camp
Strive for Excellence Camp
The Strive for Excellence Camp has once again been Sanctioned by Alberta Soccer and given the 3-Star Rating (Advanced Camp - Highest Rating Given)
The camp will be from July 19 to July 23.
Location: Millennium Place Outdoor Fields
You do not have to be part of the SPDSA to register. The camp is open to players born in 2014 and older. U7/U8 are from 10:00 am to 12:00 pm. U9 (2012 born) and older are from 9:00 am to 3:00 pm.
We will be taking team registrations as well at U13 and older.
Coaching Bios
Adam Loga
Adam Loga is a former Collegiate athlete having played for Northwest University in Kirkland Washington, where he graduated with a degree in Education. During Adam's time at Northwest University, playing for the Eagles, he won a Conference Championship in 2009, earned first-team all-conference honours and was nominated for the All-America Academic athlete team in 2013. Loga was the captain of the 2013 squad that was ranked as high as 27th in the NAIA.
A born and bred Edmontonian, Adam grew up as a standout soccer player with local club organizations and Provincial teams prior to his stint with Northwest University, where he graduated with a degree in Education. Upon completion of his University career in the United States, Adam became interested in coaching and began his coaching career with the Mount Royal Cougars as an assistant coach for two seasons as well as the Director of Soccer for the Edge School for Athletes. During this time Loga was also appointed to a variety of coaching positions with the Alberta Soccer Provincial Team program and was instrumental in helping Team Alberta capture Gold at the Western Canada Games in 2019. In September 2016 Adam became the Grant MacEwan Griffins Men's Soccer Head Coach competing in the Canada West Division of U-Sports and has actively recruited a multitude Edmonton based athletes to represent the Griffins.

Adam a National "B" Certified Coach from the Canadian Soccer Association, a recipient of a Master's Degree in Coaching and Athletic Administration as well as a Chartered Professional Coach (ChPC) designation with the Coaching Association of Canada is meticulous and detail orientated in his approach to coaching. SPDSA Technical Director Shaun Lowther had this to say about Adam, "I am thrilled that Adam Loga has committed to assist us with the "Strive for Excellence Camp" as he brings a different perspective to our SPDSA players. He is a quality coach and I had the pleasure to work with him with the Alberta Soccer Provincial Program, his coaching methodology is inspiring to players and I am positive the players will learn firsthand from him what it takes to become a Student-Athlete at the university level".
Brendan O' Connell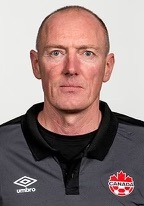 Brendan O'Connell is a former professional soccer player who made 451 appearances and scored 79 goals in the English League for clubs such as Portsmouth, Exeter City, Burnley, Huddersfield Town, Barnsley, Charlton Athletic and Wigan Athletic. O'Connell was forced to retire from playing professionally in 1998 because of a blood clot in his leg and went on to attain a UEFA 'A' Licence in preparation for a career in coaching whereupon he assumed a role with Wigan Athletic's youth and reserve teams prior to moving to Canada.
O'Connell took over the University of Calgary Dinos men's soccer program as the fifth head coach in program history on May 6, 2015, and has led the Dinos to playoff appearances in each of his first five seasons, culminating with the program's first-ever trip to the national championship tournament in 2019 after defeating Trinity Western and Mount Royal en route to a Canada West silver medal.
"We are delighted that Brendan O'Connell will be coaching within the SPDSA 'Strive for Excellence Camp'. Brenno is a Coach of the highest pedigree. His knowledge of the game honed as a Pro over many years and the subsequent years coaching professionally in England is of the highest order and he is, in my opinion, one of the best coaches within Alberta at this present time." Says SPDSA Technical Director Shaun Lowther. "His enthusiasm and demeanour demands respect from all players who work with him and I am positive all SPDSA players will enjoy the time they spend learning from Brenno."
A proven Player Development specialist Brendan O'Connell is looking forward to working with SPDSA players and will also have an abundance of stories from his Professional Playing days to share with the participants.
Coaching Bios: